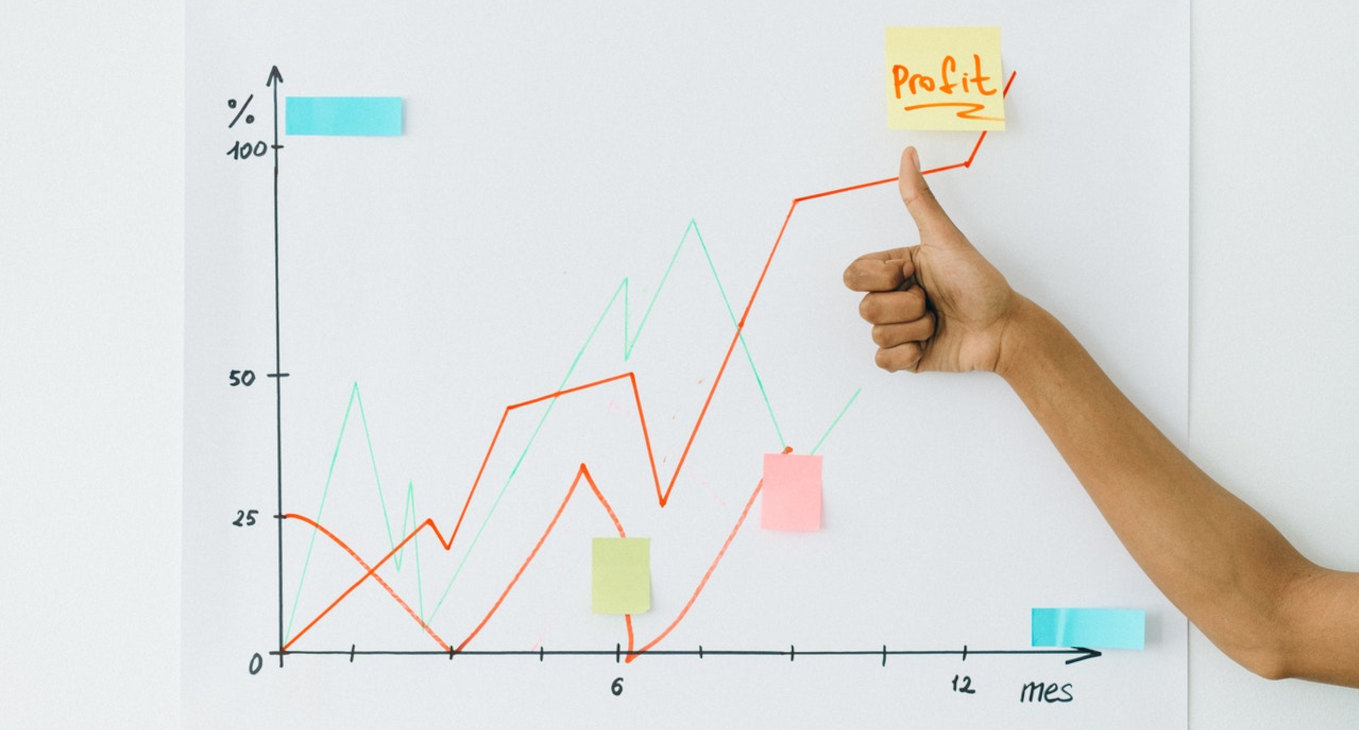 Based on the 4th quarter data of 2021, 53% of the UK's SMEs reported a profit in the previous 12 months.
However, it's one of the lowest results in the past decade. And although a significant proportion of the recent decline in total profitability may be attributed to the pandemic, the subject of profit margins has always been popular among business leaders.
In this article, we discuss practical strategies to help you boost profitability, so stay tuned until the end. After all, profit margins measure how well a business is doing, so it's critical to keep them in check.
What Is a Good Profit Margin?
As a general rule of thumb, we should consider three brackets. A net profit margin of 5% is regarded as low, 10% is considered average, and anything beyond 20% is high. However, net profit margins vary by industry, so it's challenging to pinpoint the ideal rate you should be looking at.
Electricity and gas distribution companies, for example, have more than 40% net profit margins, which is among the highest in the UK. Meanwhile, grocery stores, car dealerships, and restaurants are among the least profitable industries.
So, what are the most effective ways to achieve healthy profit margins irrespective of your industry?
1. Start With the Financial Analysis To Identify Inefficiencies
Before implementing any practical strategies, you need to take a look at your company's financial situation to determine where inefficiencies exist.
Examine your operational costs, production methods, pricing strategies, customer acquisition and retention techniques, and everything else that can have an influence on your ability to generate income or keep expenses down.
Assessing the current financial records of your business and possible gaps will help you detect discrepancies and address them to increase your profit margins.
2. Streamline Your Operating Expenses
Optimising your operating expenses is one of the most effective ways to boost your profits. Think about all the costs you incur producing your product or providing a service. These can include, but are not limited to:
Materials
Factory or office lease overheads
Wages, salaries, and related staff costs
Maintenance and repairs
Advertising and marketing
Business travel expenses
Office supplies
Utilities
Professional fees for solicitors, surveyors, and accountants, among others.
So, as a business owner, you must be looking for ways to drive your costs down, which will allow you to increase your profit margins. Consider investing in automation solutions, such as accounting automation, to streamline the day-to-day functions or even consider implementing remote or hybrid work models to save on office lease.
3. Outsource Where Possible
Outsourcing certain business functions can be a great way to control costs. You need to always stay on top and figure out when it's the time for your business to adapt.
For example, think about your staff. Payroll can swallow a lot of your resources, and it's a constant struggle to determine how many employees your business actually needs and can sustain.
If you're understaffed, you're unable to properly support your customers. However, if you have too many employees, there is a chance that somebody is idling while you still have to cover their salary and other associated expenses.
In addition, as your business expands, payroll will grow in its complexity. You might even need to hire additional staff just to perform essential payroll functions, such as processing salaries, handling payroll taxes, processing statutory payments, and keeping consistent records.
Thus, outsourcing your payroll function once again can provide tremendous profit improvements, allowing for greater flexibility in managing your costs.
4. Consider Increasing Prices
When was the last time you've increased your rates? If it's been a while, you might want to consider this strategy as a way to increase your profit margins for the years to come.
Unfortunately, many companies are afraid to implement even a slight increase due to the fear of losing customers. However, raising prices can actually help you focus on your value, refine your unique selling proposition, and charge what the market will pay.
Likewise, revamping your pricing strategy will allow you to assess your existing clients. Chances are that some customers will naturally churn, which can give you an opportunity to focus on higher-ticket deals in the future while boosting your revenue.
5. Negotiate with Your Suppliers and Partners
If you're in the manufacturing or e-commerce industry, you're perhaps relying on multiple suppliers to source your materials and products. Thus, don't shy away from asking for bulk discounts, which can be a great strategy to improve your profit margins.
Suppliers are interested in selling as much stock as possible, and they'll appreciate dealing with businesses that will help them achieve this goal. Closely working with business partners and suppliers is about mutual gains. And, even if you can't lower the price of goods or materials, you can negotiate lower shipping costs, extended warranty, and other areas of interest.
Finally, if you've exhausted your alternatives with your current suppliers, don't be scared to shop around and find new partners that can offer discounts.
6. Consult a Virtual Bookkeeping Partner
Navigating costs, process automation, supplier relations, pricing models, and other intricate parts of the business can be daunting. Working with an external financial partner can help you generate the best margins and help your business grow without incurring the cost of hiring in-house.
Outsourcing your company's financial matters to professionals can deliver significant benefits, including cost control and spend management, forecasting, cash flow management, financial modelling, and ongoing monitoring. They can also advise on the best accounting automation solutions and guide you through business decisions that elevate your profits.
Are You Feeling Stuck?
At Sanay, we can help you figure out how to improve your bottom line and achieve monumental improvements. You can choose the most suitable financial control and management plan for your business, and let us handle the rest!
We want to see our clients grow no matter the circumstances, so if you need help understanding your company's financials, get in touch with our team today!
Read more articles